Ovulation Spotting And Pregnancy: What You Need To Know When Trying To Conceive
This post may contain affiliate links. Read the disclosure.
As a mother of three, I've been through the emotional whirlwind of trying to conceive. Although I never personally experienced ovulation spotting, I remember the countless conversations with friends and family members who did.
Their stories left me grateful for the knowledge of this phenomenon, as it's an important aspect of fertility that many women face.
In this blog post, I'll delve into the world of ovulation spotting and pregnancy from the perspective of someone who has been through the journey of conception.
I'll share insights and information that will help you understand this topic's emotional and physical aspects, and provide valuable resources for those navigating their quest for motherhood.
So, let's embark on this enlightening discussion together, and explore how understanding ovulation spotting can empower you on your path to parenthood.
Ovulation
Ovulation is the third phase of the menstrual cycle. When you ovulate, your ovaries release eggs into the fallopian tube.
In a typical cycle, ovulation usually occurs 14 days before your next period and is characterized by the following symptoms:
Transparent, thick, and sticky cervical mucous
Bloating and abdominal pain, which may include mild cramping
Rise in basal body temperature
Breast tenderness
Increase in luteinizing hormone (LH)
Ovulation is the time to conceive and become pregnant because the egg has been released and is ready. But, if you had spotting during ovulation, you might wonder whether a pregnancy is possible.
This post will explore the connection between ovulation spotting and pregnancy.
Hopefully, you will better understand ovulation spotting, and have some of your questions answered. Let's get started!
Save Money On Hotels, Flights, And Rental Cars With Hotwire
Score up to 60% off on hotels and grab rental cars from just $8.99/day with Hotwire's 'Hot Rate' deals. Cheap Flights too. Start saving big on travel today!
Pros:
Affordable Deals

Price Match Guarantee

Travel Packages: Comprehensive packages combining flights, hotels, and car rentals are available.
Cons:
No Cancellation or Refunds

The specifics of 'Hot Rate' deals aren't revealed until after purchase.

No Rewards Program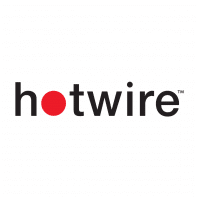 What Is Ovulation Spotting?
Ovulation spotting is when you have light or minor bleeding in the middle of your menstrual cycle (approximately, 14 days before your period). While spotting is uncommon, there's nothing to panic about.
The main reason behind ovulation spotting is the sudden shift of hormones. After ovulation, your body slowly increases the amount of progesterone it produces.
If too much progesterone is released immediately after ovulation, you may experience minor bleeding.
This bleeding won't be like your regular periods. There will be a few spots of light-colored blood every now and then. Hence, the name – spotting.
Ovulation spotting usually lasts for only a day or two. You should consider consulting a professional if it continues for more than that.
Increasing Your Chances of Conception: Tips and Tricks
To increase your chances of conception, it's crucial to understand the role of spotting and how it relates to your fertility.
Spotting can serve as a helpful indicator of your ovulation, providing valuable information on when you're most fertile.
Here are some tips and tricks to help you maximize your chances of conceiving:
Track your menstrual cycles
Maintain a record of your menstrual cycle, noting the start and end dates and any spotting or unusual symptoms. This will help you identify patterns and determine the average length of your cycle.
Monitor ovulation signs
Apart from spotting, pay attention to other signs of ovulation such as changes in cervical mucus, increased basal body temperature, and mild abdominal pain.
Familiarizing yourself with these indicators will help you accurately pinpoint your fertile window.
Use ovulation prediction kits
These over-the-counter kits detect the surge in luteinizing hormone (LH) that occurs just before ovulation.
By using an ovulation prediction kit, you can determine the best time to try for conception. I was able to conceive my first two pregnancies using these kits, on our first month of trying.

Maintain a healthy lifestyle
A balanced diet, regular exercise, and stress management can significantly impact your fertility.
Prioritize self-care and maintain a healthy weight to create the optimal environment for conception. Additionally make sure you're getting plenty of sleep.
Optimize your timing
Once you've identified your fertile window, aim to have intercourse every day or every other day during this period. This will increase the likelihood of sperm meeting the egg during ovulation.
Choose fertility-friendly lubricants
Some lubricants can negatively affect sperm motility. Opt for fertility-friendly options to ensure that sperm can swim freely and reach the egg.
Consult with a healthcare professional
If you're struggling to conceive or have concerns about your reproductive health, don't hesitate to seek guidance from a healthcare professional. They can provide personalized advice and recommend further testing or treatments if necessary.
By understanding the role of spotting in your fertility journey and implementing these tips, you can significantly increase your chances of conception. Stay patient and persistent, and remember that every individual's journey is unique.
Is Ovulation Spotting the Best Time to Conceive?
Ovulation spotting doesn't mean you are pregnant. However, it is a huge indicator that you are in the fertile window. This means that the egg is ready to be fertilized, and the chances of pregnancy are high.
To increase your chances of conception, it's best to have intercourse in the days leading up to ovulation and 2 days after ovulation.
Because sperm can live for as many as 5 days, space out your intercourse every other day leading up to ovulation.
Not having sex daily will ensure the sperm are strong and live longer in the reproductive tract.
So, if you are trying to conceive, ovulation spotting, and ovulation in general, is the best time!
Other Reasons Why You May Have Spotting Before Your Periods
Not every spot is ovulation spotting. Remember that when you bleed 14 days before your period and are experiencing ovulation symptoms, only then are you having an ovulation spotting.
Otherwise, you may bleed for the following reasons:
You have an intrauterine device (IUD).
You took birth control pills that caused sudden hormonal shifts.
Your vagina suffered minor trauma during intercourse or a gynecological exam.
Because women with PCOS, uterine fibroids, or sexually transmitted diseases experience different cycle lengths, it's more likely to bleed during their menstrual cycle.
It also happens when a woman approaches her menopausal stage (which causes highly irregular periods).
Spotting or heavy bleeding may be a sign of cancer in rare cases. This post isn't meant to diagnose any medical symptoms but to educate you on spotting ovulation.
So, if none of the above reasons justify the blood, see a healthcare professional.
Is It Normal to Have Spotting After Pregnancy Tests?
If you just found out you're pregnant (first, congratulations!), if you have started spotting, you don't necessarily need to stress. Women will sometimes experience implantation bleeding.
Implantation bleeding occurs when the now-fertilized egg attaches itself to the uterine lining. However, not every woman will experience implantation.
You may also have light spotting during pregnancy. If this happens during the first trimester (conception through week 12 of pregnancy), know it is relatively standard.
But, if you're bleeding heavily or have spotting after the first trimester, contact a professional immediately. We also know the difficulty of a miscarriage.
Seven weeks into my second pregnancy, I experienced heavy bleeding. I immediately consulted our doctors, which is what I would advise should you experience any bleeding.
In Conclusion
In conclusion, ovulation spotting is a natural and common occurrence for many women during their menstrual cycle.
Although it may cause some concern, understanding the reasons behind this phenomenon can help alleviate anxiety and promote better awareness of one's reproductive health.
By tracking your cycle and recognizing the signs of ovulation, you can gain valuable insights into your fertility and take control of your reproductive journey.
If you notice any unusual changes or experience persistent pain or heavy bleeding, consult a healthcare professional to rule out any underlying health concerns.
Embrace the knowledge of your body's unique processes and stay informed to maintain optimal well-being.
Next Up From ChaChingQueen
Erin is the mother of identical twin girls and their slightly older brother. She is a domestic engineer, and previously had a career leading customer service teams for a major HVAC company. Cleaning without harsh chemicals, and cooking easy and usually healthy meals are part of Erin's daily life. She volunteers with youth leaders, and genuinely wants to help others win. Erin has a degree in Communications, with a focus on Broadcast Journalism.