Family Road Trip Stop at O'Charley's for Dinner
This post may contain affiliate links. Read the disclosure.
Here is our O'Charley's review from our family road trip in Greensboro, NC. This is a sponsored post on behalf of O'Charley's Restaurant and I was given a gift card to facilitate my review.
Family Road Trip – O'Charley's Review
We often take family road trips. Not only does it save money over flying, it provides a great learning experience and family bonding time. We have seen so many interesting, beautiful, inspiring things on our trips.
Sometimes though, meal times can be tough on the road. We try to use Yelp and other local review sites to find the best restaurants. There have been some really good meals and some that did not go very well. With two picky eaters in the house, it is often hard to find a restaurant that appeals to all of us.
On Tuesday we had a long day on the road. We left Philadelphia at 7 am and drove for about 8 hours to Greensboro, NC. That night, we decided to try O'Charley's for dinner. Before going, I looked at the menu and it seemed to have a good variety of different foods.
Trying O'Charley's Restaurant in Greensboro, North Carolina
We were pretty hungry when we arrived at O'Charley's. A day on the road, just snacking, makes you hungry.
The Food At O'Charley's
O'Charley's is most famous for its burgers and french fries. They have a vast menu with all of the expected American Pub foods.
We started with some spicy cheese wedges. Yum! And they brought fresh, hot, slightly sweet bread to the table. Also yum!
For dinner, we loaded up on protein. My husband and son got steak while my other son got salmon and I had ribs. With such a big menu we could all easily find food to order.
Unfortunately, we were too full after dinner to order dessert, but from the pictures, the desserts looked amazing. We will have to try them the next time we go to an O'Charleys.
O'Charley's Review
Overall, we had a great experience at O'Charleys.  There are multiple locations around the U.S.   In addition, there are various deals and promotions they have during the week. Wednesdays are free pie day and kids eat free all day, every day.
Save Money On Hotels, Flights, And Rental Cars With Hotwire
Score up to 60% off on hotels and grab rental cars from just $8.99/day with Hotwire's 'Hot Rate' deals. Cheap Flights too. Start saving big on travel today!
Pros:
Affordable Deals

Price Match Guarantee

Travel Packages: Comprehensive packages combining flights, hotels, and car rentals are available.
Cons:
No Cancellation or Refunds

The specifics of 'Hot Rate' deals aren't revealed until after purchase.

No Rewards Program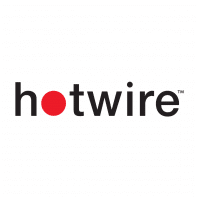 Rachel is an Austin blogger, educator, mom, wife, young breast cancer survivor writing about health, saving money, and living a happy life in Austin, Texas.
Rachel has written for HuffPost and Hometalk and has been featured on KXAN, Studio 512, Fox 7 Austin, and CBS Austin.