NewAir Mini Fridge [NRF031BK00]: A Quiet Fridge With A Small Footprint
This post may contain affiliate links. Read the disclosure.
This is a sponsored post on behalf of New Air. All thoughts and opinions are ours.
Overview NewAir compact mini refrigerator with freezer
This Newair compact mini refrigerator with freezer will fit into small rooms with minimal maintenance or provide you with comfort. It includes an additional refrigerator compartment to make sure you can keep all your food and drinks frozen.
The mini fridge has a glass shelf and specialty compartments like a crisper drawer. The refrigerator door has a shelf, bottle rack, and can dispenser. Unfortunately, it does not have adjustable shelves, but you can remove the shelf if you have a larger item to keep cold.
As a family of five, we go through a lot of food. We have a large primary refrigerator but we still needed a separate fridge. We go through a lot of milk and we need additional space for freezer meals, frozen treats for the kids, and adult beverages for us.
A deep freezer is a nice alternative, but we want the extra refrigerator and freezer compartments. We also prefer a mini refrigerator because we didn't need the amount of space of an additional full size, and we are conscious of cost and food waste.
Energy Efficiency personally tested
The mini refrigerator has an estimated "Annual Energy Use of 270 (kWh/yr)" and is Energy Star Certified. We tested the mini-fridge with a Kill-A-Watt tester and it estimated only 119 a year. Granted we didn't open and close the fridge much over the month that we tested, but the energy star certified design seems to do its job.
The capacity of NewAir Compact Mini Refrigerator
The NewAir Mini Fridge [NRF031BK00] holds 3.1 cubic feet. But what does 3.1 cu ft actually mean in real life?
Two gallons of milk easily fit onto the main shelf of the fridge but it does require the upper shelf to be removed. You can actually fit 4 full gallons of milk when the shelf is removed.
While the NewAir Mini Fridge doesn't have a built-in ice machine, included with the model is a mini ice tray. If you use a lot of ice, there is space for several full-size ice trays in the freezer.
The freezer easily holds several standard full-size frozen pizzas while also leaving room for additional frozen treats.
Save Money On Hotels, Flights, And Rental Cars With Hotwire
Score up to 60% off on hotels and grab rental cars from just $8.99/day with Hotwire's 'Hot Rate' deals. Cheap Flights too. Start saving big on travel today!
Pros:
Affordable Deals

Price Match Guarantee

Travel Packages: Comprehensive packages combining flights, hotels, and car rentals are available.
Cons:
No Cancellation or Refunds

The specifics of 'Hot Rate' deals aren't revealed until after purchase.

No Rewards Program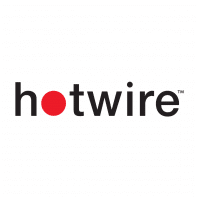 This particular mini fridge includes a large crisper drawer that can hold a full week's worth of fresh fruit and vegetables. We were able to fit a full-size bag of grapes, a container of tomatoes, several apples, a bag of baby carrots, a green pepper, and zucchini. Even with all of this fresh food, there was still room for more.
If you are looking for a spacious MiniFridge that has room for a week's worth of groceries for 1, or even to store extra food to avoid your primary refrigerator from feeling stuffed the NewAir Mini Fridge [NRF031BK00] will be the perfect addition to your home.
The NewAir MiniFridge NRF031BK00 is quiet
The most surprising feature that we noticed immediately is that the NewAir mini fridge is very quiet. I have a decibel meter app on my phone (to show my son how loud he is!). I used it to test how quiet the fridge is when on. See screenshot.
The compressor was on when we took this screenshot. If we tested it when it was idle it would have been even lower.
Benefits and Drawbacks NewAir MiniFridge NRF031BK00
Benefits
Super quiet compressor
It's well lit
It has a roomy interior
Compact footprint
It is a nice budget fridge
Drawbacks
There isn't a separate setting to control the temperature in the freezer.
It does not have adjustable glass shelves in the fridge or the freezer.
The mini fridge has a decent-sized freezer, but the freezer doesn't have shelves and specialty compartments.
A workaround to the freezer lacking shelves is you can buy a stand on Amazon to help create separate compartments.
a versatile fridge
The NewAir Mini Fridge [NRF031BK00] not only holds food but also makes for a perfect snack fridge. Its can dispenser area is great for beer storage. Its compact footprint fits nicely in a basement or office.
The door can also be switched out to open to the right or the left.
Where to buy
The NewAir Mini Fridge [NRF031BK00] is available at most big box stores like Best Buy, Home Depot, Tractor Supply, etc. You can also buy directly from New Air or from Amazon.
Specifications Per New Air
Model: NRF031BK00.
Product Type: 3.1 Cu Ft Compact Refrigerator.
Product Dimensions: 19.37″D x 18.5″W x 32.95″H.
Product Weight: 53.00 lbs.
Product Color: Black.
Voltage: 110-120 volts.
Power Consumption: 270 Kwh.
Frequency: 60 Hz.
Special Note
This compact mini refrigerator would have been great to have when we were breastfeeding. I drank a lot of Body Armor drinks as a way to maintain and increase my supply. Having cold drinks on hand to replenish any
As many nursing moms know, middle-of-the-night feedings are hard. You're sleep-deprived, but you need to be awake to take care of your young child or in my case twins. And you're hungry. If you have the extra space in the nursery, having a mini fridge there will prove to be a genius idea.
Having a fridge at your fingertips in the middle of the night to store treats, snacks, and drinks will be a game changer on your breastfeeding journey.
If you're a mom who uses Hakka while nursing you know the misery that is walking to the kitchen to either put the "pumped" milk into the fridge until morning. Imagine if you had a minifridge right in the nursery and you could save yourself precious time by reaching over and putting the Hakka inside a mini-fridge.
There is a light inside the fridge that will let you see where you're storing your milk to avoid spills, but it's not so bright that it will wake a sleeping baby.
I also produced more milk than we were using with our twins. Having the extra space to store milk before transferring it to the freezer, and to have the extra freezer space to hold frozen milk would have been helpful.
In Summary
The compact footprint is perfect for any place without losing any features of larger models. It features a removable rack and a crisp-looking drawer. The spacious interior is a perfect solution whether for a studio apartment, dormitory, wet bars, RV-sized fridge, or any small living space. It's also good for families like ours that just need a little extra fridge space.
We tested the mini fridge for 40 days. If you are in the market for a mini fridge, then we recommend a NewAir Mini Fridge [NRF031BK00]. It will make the perfect addition to your home.
When you purchase this NewAir Mini Fridge at NewAir.com and use the code CHACHINGQUEEN, you will receive a special discount. We will also receive a small compensation.
Erin is the mother of identical twin girls and their slightly older brother. She is a domestic engineer, and previously had a career leading customer service teams for a major HVAC company. Cleaning without harsh chemicals, and cooking easy and usually healthy meals are part of Erin's daily life. She volunteers with youth leaders, and genuinely wants to help others win. Erin has a degree in Communications, with a focus on Broadcast Journalism.