Best 4th Of July Nails Ideas: The Hottest Looks (2023)
This post may contain affiliate links. Read the disclosure.
Celebrate Independence Day with beautiful white, red and blue polish on your nails. Celebrate fourth of July with bright colors and designs will make your nails pop with stars and stripes.
4th of July is a holiday is the perfect time to add a pop of flare to your traditional polish. A perfect July look for your nails is red polish with white polka dots as an accent nail design.
Vertical stripes
Adding vertical lines to the flag design is a good way to update traditional flag design. Start by painting your nails red. Then add two white stripes.
Apply a deep blue polish and create a thin line right next to each white strip. As with any manicure, finish with clear topcoat for lasting results.
This idea is one of the hottest trends for nail designs for a fourth of July manicure.
Bedazzled Stars
Upgrade your simple mani with 3D design. Adding stars, diamonds and crystals to your fourth of July nails
Apply a basecoat we recommend trying a blue base coat then apply nail glue before placing your bling. into the spot where your star or diamond will be placed.
Gently place your jewels or stars using a pair of tweezers onto glue then place the nail jewelry into place. Add a top coat to secure your fourth of July nail design into place.
Highlights
Stay minimalistic in your focus on your nail surface. You can add tiny stars near your cuticles to create a clean and simple negative space 4th of July nail design.
Stickers
Stickers are a super duper easy way to bring a manicure to life. If you're looking to add a little red white and blue to your nails, give nail stickers a try. Once the paint has dried completely applying stickers is simple.
Save Money On Hotels, Flights, And Rental Cars With Hotwire
Score up to 60% off on hotels and grab rental cars from just $8.99/day with Hotwire's 'Hot Rate' deals. Cheap Flights too. Start saving big on travel today!
Pros:
Affordable Deals

Price Match Guarantee

Travel Packages: Comprehensive packages combining flights, hotels, and car rentals are available.
Cons:
No Cancellation or Refunds

The specifics of 'Hot Rate' deals aren't revealed until after purchase.

No Rewards Program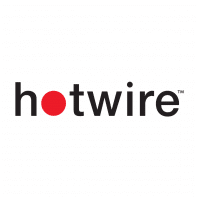 Some fun ideas for nail stickers are a white star stickers on top of blue nails. You can place one sticker in the center of each nail.
Give your nails a quick coat in glittery blue, and once that's dried add a pop of holiday spirit with red and white stripes.
We love these fun and festive American Flag stickers available on Amazon. You can wear this design on a bright white or clear base to show your American Pride.
Nail Wrap Designs
Nail wraps have become increasingly popular over the last several years with the introduction of Color Street.
The idea is applying a cured strip of nail polish to your nail that remains for up to 2 weeks.
One of the draws to nail wraps for summer, but specifically fourth of July is the red white and blue nail art designs companies have available.
Color Street sales reps are paid commissions on nail sets they sell. However, there are other brands of these wraps available for purchase in big box stores, and on Amazon.
Mixing and matching designs on your nails is simple and fun. You can chose various shades of red or blue. There are designs with fireworks, stripes, stars and stripes, American Flag, negative space nails, or tie dye.
Nail wraps or sticker nail polish is an easy way to rock mix match fourth of July nail art designs in a fashionable way.
I love wearing Color Street glitter polish on my nails because it's cute and lasts for 2 weeks, even during summer when my hands and toes are in the pool regularly.
Simple & Patriotic
Your fourth of July nails don't have to be loud and extragavent. Go simple with a tradition red nail polish. You can add some 4th of July nail designs with a blue or blue glitter accent nail. Another
American Flag Patriotic nails
We love these fun and festive American Flag stickers available on Amazon. You can wear this design on a bright white or clear base to show your American Pride.
Add a clear top coat or even a translucent red or blue glitter over the stickers to create cool holiday nails.
You can also 4th of July nail stickers with fireworks on them that you can add. This is a simple way to paint and design young kids nails for the holiday too.
Red White & Blue Press-Ons
If time is of the essence and you're unable to make it to the nail salon, or simply don't have time to polish and add nail art designs to your own nails or to a set of DIY press on nails.
Press on nails aren't the same as they were just a few decades ago. There have been many advancements in the technology, and it's no longer one size fits all. I love ImPress nails because of the various sizes included in the packages.
Patterned tips
The French tip is a timeless classic, and one that will never go out of style. If you're used to getting a french mani with white tips, think outside of the box and add some different shades of blue and red for a cute 4th of July nails.
You can also add an accent nail with fireworks on your ring finger. Show off your nail design at your fourth of July BBQ.
If you tend to get French tip nails, ask your nail tech to change the color of the tips to red or blue when you head in for your July nail polish change.
Or, consider an ombre effect where each tip is a different shade from the red or blue color family.
Star Spangled
You can alternate the paint on your nails between red white and blue, then add blue stars to the red and white nails, and white stars to the blue nails.
This nail art design will create a cute and simple independence day tribute on your nails.
Stars & Stripes Stencil
If you want to add stars and stripes to your nail design, but need a little help, grab a stencil and nail paint to create the perfect Independence Day nails.
There's no need to head to the salon and pay for these nail designs. It's possible to create the look on your own. You can add white stars on to red and blue nails with a stencil.
Another perfect look for summer is white and blue nails with glitter red stripes of varying thickness.
Red and Blue stripes
To achieve this look, you'll start with a nude base coat. Then, using nail tape or an excellent fine tipped brush make a straight line alternating between red lines and blue lines. This pattern creates fun and festive 4th of July nails.
A super easy way to add an extra pop is to use a glitter polish on an accent nail in varying shades.
Use your Nails to Show your Pride
You can show your style the entire month of July with your nails. If you will have your July nails done at the beginning of the month, consider stars and stripes.
Then later in the month when you're ready for a change add white dots to your thumb and ring finger.
You don't have to end the holiday celebration on July 5th. You can have fun July nails all month with simple and subtle nail art.
Next Up From ChaChingQueen
Erin is the mother of identical twin girls and their slightly older brother. She is a domestic engineer, and previously had a career leading customer service teams for a major HVAC company. Cleaning without harsh chemicals, and cooking easy and usually healthy meals are part of Erin's daily life. She volunteers with youth leaders, and genuinely wants to help others win. Erin has a degree in Communications, with a focus on Broadcast Journalism.