DIY Garbage Disposal Cleaner: How To Easily Clean A Garbage Disposal
This post may contain affiliate links. Read the disclosure.
You walk into your house after a long day at work, running errands, working carpool duty. You open your door and. BAM! A horrid smell hits you.
What is that? After a little investigation, you realize it's coming from your garbage disposal.
This DIY garbage disposal cleaner are just what you need.
For a quick fix that freshens, cleans, and deodorizes your garbage disposal, read on, to learn how to make these homemade garbage disposal tablet treatments with ingredients you most likely already have at home.
Sure, you could buy some of these recommended garbage disposal tabs discounted on Amazon, but you can save even more money if you make garbage disposal cleaner at home.
Thankfully, it takes just a few minutes to mix up a batch.
How to make your own DIY Garbage Disposal Tablets
This DIY post is part of my extensive list of 18 Household Products You Can Make at Home.
Related: 50+ Uses for Vinegar – Home, office, car, garden, beauty, health, and pets
What you need to make your homemade garbage disposal cleaner:
An ice cube tray or muffin pan
Various citrus and or citrus rinds cut into small pieces
Daily use makes it easy for your garbage disposal to become a little smelly over time.
I love using vinegar to clean in my kitchen, especially the dishwasher, but vinegar is also great with helping to deodorize your garbage disposal is one.
Our Daily All Purpose Cleaner
🙋‍♀️For more Cleaning Hacks, be sure to subscribe to my newsletter. 👈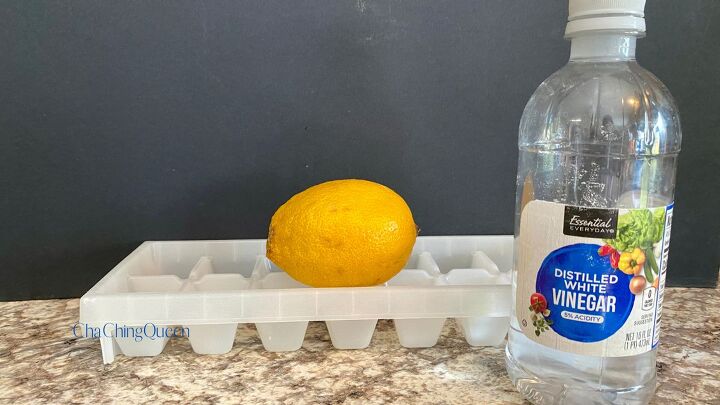 Using frozen vinegar and slices of lemon, you can help to clean the blades of your garbage disposal, while leaving behind a light and fresh scent.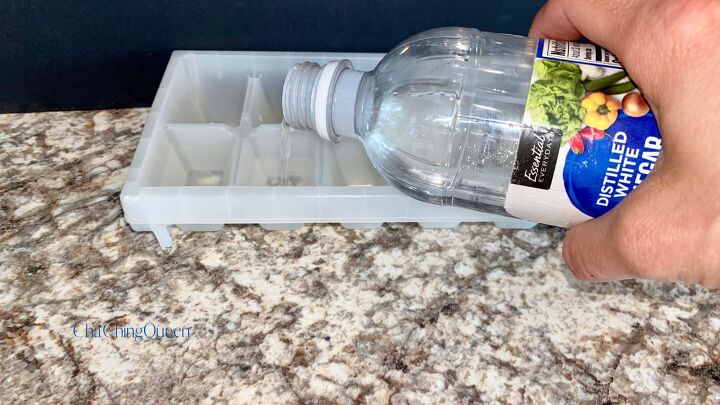 Start by filling each compartment of an ice cube tray with white vinegar.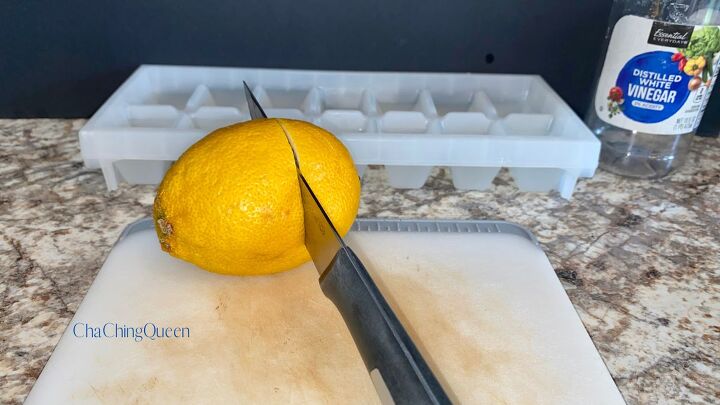 While I love adding lemon to my water for all of the great benefits you get from it, lemon is also a great way to freshen up your garbage disposal.
A fresh lemon will ensure you have the juiciest fruit with the most pungent scent.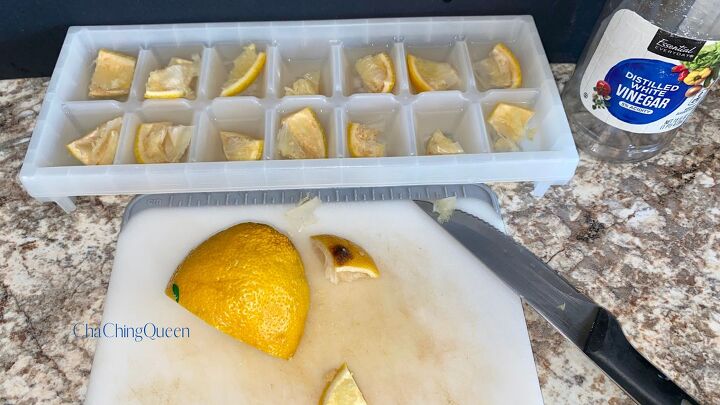 Slice the lemon into wedges that will fit into each cube of the tray you filled with vinegar.
I like to add as much lemon as will fit into each cube to ensure that my kitchen is left with a light and fresh scent.
🙋‍♀️For more Cleaning Hacks, be sure to subscribe to my newsletter. 👈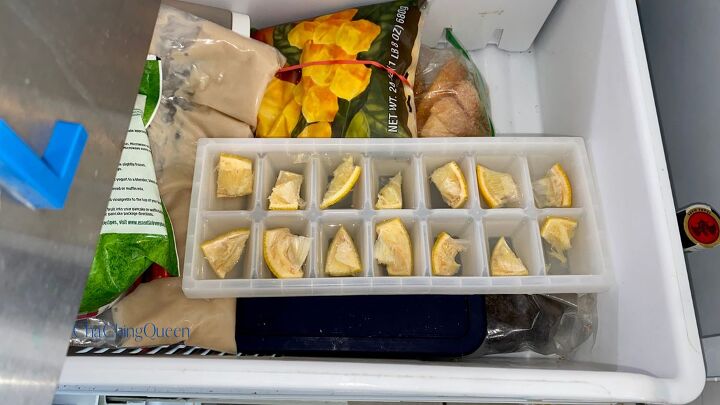 Once you've filled each cube space with vinegar and lemon, place the tray in the freezer.
Freeze until solid. Vinegar requires a lower temperature than water to freeze. Water freezes at 32 degrees Fahrenheit, but the freezing temperature of vinegar is 28 degrees.
While the freezing temp is lower, you likely don't need to change any settings on your freezer to ensure the vinegar freezes. Just leave the trays in the freezer overnight.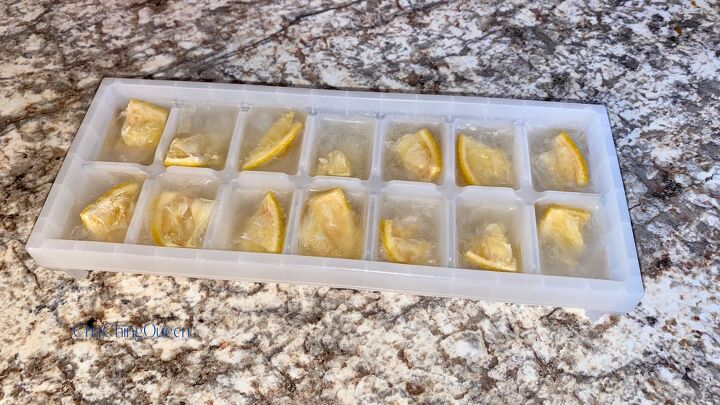 After the vinegar and lemons are completely frozen, remove the tray from the freezer and twist it to loosen the cubes the same as you would if you were making traditional ice.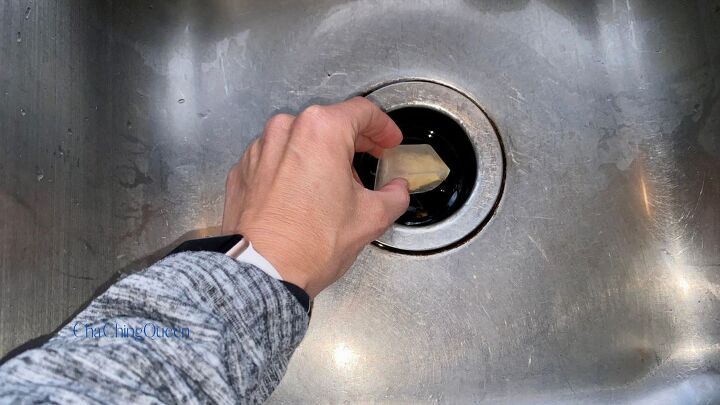 Then drop 1-2 frozen vinegar cubes into your garbage disposal as often as you want to give it a good scent.
Many people believe that ice is a great way to sharpen the blades if your disposal, but the main benefit you will get from using ice is to loosen any particles that might be stuck on your disposal blades.
The lemon gives your sink a light and fresh citrus scent.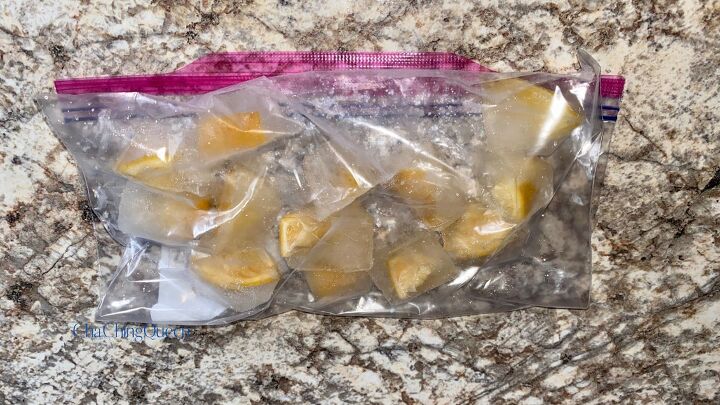 Storing extra lemon and vinegar cubes in a zip-top bag will help avoid your freezer smelling like vinegar while you have stock.
🙋‍♀️For more Cleaning Hacks, be sure to subscribe to my newsletter. 👈
Steps To Make Garbage Disposal Tablets
As I use citrus fruit during the week, I save the ends and peels in a baggie in the refrigerator.
If you do not have any discarded citrus pieces, you can take various lemons, limes, oranges, and grapefruit and slice them into small pieces.
In an ice cube tray or muffin pan, fill each spot with small amounts of fruit.
Then, with white vinegar, fill each spot almost to the top. Optional – add some essential oils.
After that, place the trays in the freezer for a few hours until completely frozen.
Pop out the tabs and put them together in a freezer bag for later use.
Be sure to label your bag, especially if you have kids.
These homemade DIY garbage disposal tablets look pretty yummy, like a popsicle.
But, I assure you, the smell alone will make you change your mind about possible consumption.
🙋‍♀️For more Cleaning Hacks, be sure to subscribe to my newsletter. 👈
Does Ice Sharpen Garbage Disposal Blades?
No, placing ice in a garbage disposal does not sharpen the blades. This is a common misconception.
While ice cubes are often recommended in garbage disposals, they clean the blades and dislodge any trapped food particles. Ice does not sharpen the garbage disposal blades.
Ice is not harder than the steel of the garbage disposal's blades. The process of ice being broken down in a garbage disposal cannot wear away the steel to create a sharper edge.
However, ice does help remove odors in a garbage disposal unit and contributes to its overall maintenance and cleanliness.
While ice doesn't sharpen a garbage disposal's blades, it is beneficial for keeping the unit clean and odor-free.
How To Clean Garbage Disposal Rubber Flanges
Cleaning the rubber flange on your garbage disposal is an often overlooked but necessary task.
Here's a step-by-step guide on how to clean the rubber flange on a garbage disposal:
Safety First: Always ensure the garbage disposal is turned off and unplugged before you begin cleaning.

Gather Your Supplies: You'll need a mild dish soap, a soft sponge or cloth, and a toothbrush.

Initial Rinse: Run warm water over the rubber flange to loosen any food debris stuck to it.

Apply Soap: Apply a small amount of dish soap to the sponge or cloth and gently scrub the surface of the rubber flange.

Scrubbing the Flange: For stubborn stains or debris, use a toothbrush to scrub the hard-to-reach areas under and around the flange.

Rinse Again: Rinse the flange thoroughly with warm water to remove all soap and loosened debris.

Dry: Dry the rubber flange thoroughly to prevent any water damage or mold growth.

Inspect: Check the rubber flange for any signs of wear or damage. If you notice any cracks or tears, it may be time to replace the flange.
While this task isn't often discussed, it's important to maintain your garbage disposal's rubber flange to ensure the appliance works effectively and lasts as long as possible.
More Tips to use your DIY Garbage Disposal Tablets
It's straightforward. First, run some hot water into your sink and then turn off the water. Next, pour a little bit of baking soda down the drain. Baking soda is optional, that is why we didn't mention it above.
Carefully place one of your new DIY Garbage Disposal Tablets into the disposal.
You will probably hear some fizzing.
Turn the water back on, and with caution, turn on the garbage disposal. Run it until all of the tablets are chopped up.
Some people like to add kosher salt too. If you use salt, you add it to the garbage disposal along with the ice. You do not try to freeze it.
Note – As with any DIY project, use caution and try small amounts at first at your own risk. Different appliances behave in different ways.
If you love how this green cleaning method cleaned your sink, check out this list of about 50 ways to use vinegar (and it keeps growing).
Vinegar has many uses in and around the house, car, garden, for pets, and more.
Also, check out 18 Household Products You Can Make at Home for even more DIY homemade products to help you save money and be healthier.
Next Up From ChaChingQueen
Erin is the mother of identical twin girls and their slightly older brother. She is a domestic engineer, and previously had a career leading customer service teams for a major HVAC company. Cleaning without harsh chemicals, and cooking easy and usually healthy meals are part of Erin's daily life. She volunteers with youth leaders, and genuinely wants to help others win. Erin has a degree in Communications, with a focus on Broadcast Journalism.