How To Get A Cheaper Hotel Room: Ways To Save On Hotel Stays
This post may contain affiliate links. Read the disclosure.
If you're anything like me, you're always looking for ways to stretch your travel budget without compromising comfort and experience.
Hotel rooms are notoriously expensive, which can be bad news if you're trying to have a dream vacation on a budget.
They are particularly expensive at certain times of the year, such as popular tourist seasons when hoteliers hike their prices up.
Below are my favorite strategies that can help you save big on hotel stays. Let's dive in!
1. Fighting the Fees
Hotels, like airlines, have become fee-crazy. You'll find charges for everything from Wi-Fi to parking.
But here's a secret: you can often negotiate these fees away or find alternatives.
For instance, instead of paying for hotel Wi-Fi, consider using a local SIM card or portable Wi-Fi device.
Our local library lends out wifi hot spots. These are perfect when traveling as a backup to using our phone as a hot spot.
This could save you up to $20 per day.
2. Leveraging Employee Benefits
Many companies offer travel benefits as part of their employee perks, including discounted hotel rates.
Special Deal For ChaChingQueen Readers
Pogo Pass
You can get 50% off of a Pogo Pass by using promo code CHACHING at checkout, making it just $49.99 ($39.99 for Kansas City). This discounted entertainment pass is a great way to enjoy entertainment for FREE all year long!
So, before you book, check if your employer or any organizations you belong to have such deals.
3. Utilizing Hotel Loyalty Programs
Hotel chains often reward loyal customers with points that can be redeemed for free stays. The Delano Las Vegas, for example, is a member of MGM's MLife program which offers unique status benefits.
Even if you're not a frequent traveler, these programs can offer value. You might save 5-10% per stay just by signing up!
4. Choosing Alternate Airports
This might seem unrelated to hotel costs, but hear me out. By flying into a less popular airport, you can often find cheaper flights AND accommodations.
Hotels near smaller airports usually have lower rates due to less demand. You could potentially save hundreds of dollars on your total trip cost by making this simple switch.
5. Avoiding Room Service and Creating a Meal Plan
Room service is convenient, but it's also overpriced. Instead, consider creating a meal plan.
Use the local grocery store to stock up on breakfast items and snacks. Many hotels offer refrigerators or kitchenettes where you can store and prepare food. This strategy could easily save you $50 or more per day.
6. Asking for Flexibility with Pricing
Another lesser-known strategy is to simply ask for flexibility with pricing. While it might not work every time, some hotels are willing to offer a discount to fill empty rooms, especially during off-peak times.
On our recent 5000 mile road trip, I saved $40 one night just by asking that phrase, "is there any flexibility with the price". The front desk started typing feverishly and came back with a better price than online options.
Just remember, it never hurts to ask for a discount!
7. Requesting Complimentary Upgrades
Lastly, don't forget about complimentary upgrades. If a hotel isn't fully booked, they may be able to upgrade your room at no additional cost.
This can result in a much more comfortable stay without stretching your budget.
8. Take advantage of membership reward programs
A lot of vacation and hotel booking sites offer member reward programs, where you can earn exclusive discounts on hotel stays.
They might offer you a number of free nights after a certain number of bookings or discounted rates if you're a regular customer.
Expedia, Hotwire, Booking.com, and Hotels.com are just some of those sites that offer their members regular rewards, so sign up and take advantage of their offers. 
Save Money On Hotels, Flights, And Rental Cars With Hotwire
Score up to 60% off on hotels and grab rental cars from just $8.99/day with Hotwire's 'Hot Rate' deals. Cheap Flights too. Start saving big on travel today!
Pros:
Affordable Deals

Price Match Guarantee

Travel Packages: Comprehensive packages combining flights, hotels, and car rentals are available.
Cons:
No Cancellation or Refunds

The specifics of 'Hot Rate' deals aren't revealed until after purchase.

No Rewards Program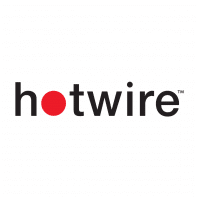 9. Use coupon sites
Coupon sites are great, for all kinds of reasons, as you can get money off fashion, DVDs, meals out, and a range of other purchases.
They are also great for hotel bookings, as sites such as RetailMeNot, Coupons.com, and Honey.com provide coupon codes for some great hotel discounts.
Browse these sites and look for others online, and use them to get money off anything else you need for your vacation time. 
10. Take advantage of last-minute deals
Hotels and booking sites often offer last-minute deals, especially when they have a need to attract more customers, so take advantage of these.
HotelTonight, Hotwire, and Expedia are just two of the sites where last-minute hotel deals can often be found, so bookmark these and other sites you find, and benefit from the lowered rates on offer. 
11. Stay in a hotel for longer
Nightly rates can reduce significantly the longer you stay in a hotel, so consider an extended booking.
Hoteliers often offer these cheaper rates as it means there will be fewer room changeovers, so they still stand to benefit financially. 
12. Use price matching
Some hotel and booking sites price match, meaning they will reduce their rates if you find another site offering a hotel stay for cheaper.
In some cases, they might even lower their prices to remain competitive. So, shop around before committing to a deal that could be quite expensive. 
13. Stay off the beaten track
If you don't mind a longer walk to the beach each day, you might be able to save money. Hotels that are situated further away from popular touristy places are often cheaper.
They are usually placed in quieter locations too so you will get a better night's sleep.
Consider the option when you're searching online and price up all hotels in the area, not just those in a prime location. 
Absolutely! Here are a few more strategies to save on hotel stays:
14. Booking Directly Through the Hotel
While online travel agencies (OTAs) can be convenient, they don't always offer the best deals. Often, booking directly through the hotel's website will get you the lowest price.
Plus, direct bookings may also come with perks like free Wi-Fi, late check-out, or bonus loyalty points.
15. Using Credit Card Points
Many credit cards offer travel rewards that can be redeemed for hotel stays.
For example, the Chase Sapphire Preferred card offers 2X points on travel and dining worldwide, which can be used at any hotel that accepts Visa.
16. Travel During Off-Peak Times
Hotels often lower their rates during off-peak seasons to attract more guests. If your schedule is flexible, consider traveling during these times to take advantage of lower prices.
17. Using Price Drop Alerts
Several websites and apps allow you to set up alerts for when hotel prices drop. This can be especially useful if you're planning a trip far in advance.
18. Considering Alternative Accommodations
Hotels aren't the only game in town. You might find cheaper or more interesting accommodations through vacation rental sites like Airbnb or VRBO.
When comparing Airbnb, VRBO, and traditional hotel rooms, the best deal often depends on your specific travel needs and preferences.
Type of Accommodation: VRBO only offers standalone vacation homes, whereas Airbnb provides a wealth of accommodation types including private rooms and unusual options. This wide range can be beneficial for travelers seeking unique experiences or budget-friendly options.

Service Fee: VRBO's service fee ranges from 6-12%, while Airbnb's service fee is 0-20%. However, Airbnb's service fees reduce as the total rental cost increases, which could make it more economical for longer stays.

Length of Stay: For short stays, there's often no significant difference in cost between Airbnb, VRBO, and hotels. However, Airbnb tends to be cheaper for longer stays, making it a better deal for extended vacations or business trips.

Amenities and Services: Some travelers prefer hotels because they generally provide consistent amenities and services like daily housekeeping, room service, and front desk assistance. If these conveniences are important to you, a hotel might offer more value.

Space and Local Experience: If you're the type of traveler who values plenty of space, a living area, and a more local experience, Airbnbs can be better than hotel rooms.

Airbnb or VRBO could be a better deal than a hotel room depending on the length of your stay, the type of accommodation you prefer, and the kind of travel experience you're seeking.
Always compare options and consider your personal preferences before making a booking.
Save More On Travel
Why pay more for a hotel stay when you could be paying less? Consider our suggestions and do what you can to bag a cheaper hotel room the next time you're planning to get away.
Next Up From ChaChingQueen
Greg is a Chartered Financial Analyst (CFA) with 22+ years experience in Financial Services. He has held numerous FINRA Securities licenses (series 7, 63, 65, and 66), and is an expert on Investment Products and Financial Planning. Greg has 22+ years experience as a real estate investor and degrees in Psychology and Philosophy.
Greg has been quoted/interviewed in Yahoo Money, Yahoo Finance, USA Today, Authority Magazine, Realtor.com, Business Insider, and others.
Greg is an avid runner, and the father to identical twin girls and their awesome brother. His love of budgeting and his kids led him to join The Great Resignation in 2021.
Disclaimer: Any Financial Tips on ChaChingQueen are general and informational. Speak with a professional about your specific situation.