Turn Overripe Bananas into Tasty Muffins with This Simple Recipe
This post may contain affiliate links. Read the disclosure.
How often have you added bananas to your cart at the market and thought, 'If I don't eat them all, I will just make banana bread or muffins'?
We're all guilty of muttering those words or, at the very least, thinking about them. Only to throw away the last 3 or 4 bananas 10 days later.
I'm guilty of this crime myself. But, once I perfected a quick and simple banana muffin recipe, I stopped throwing over-ripe bananas away.
With 5 minutes of prep work and 20-22 minutes of bake time, you can avoid throwing away bananas while sitting back and enjoying a fresh muffin.
Perfect Anytime
Banana muffins are perfect any time of day. They're great for a quick, simple breakfast that keeps you going. They make a great afternoon snack to help you avoid greasy chips.
Or, if you like to snack after dinner but before bed, enjoy a homemade banana muffin and avoid the guilt.
Banana muffins make breakfast on the go easy. Contained in a nice little wrapper, you can toss one to the kids as they head to the bus or grab one as you rush out the door.
If you tend to eat smaller meals but snack in between, then homemade banana muffins are great to have on hand. You still get a sweet treat, but you get to control the ingredients.
Adding chocolate chips helps to make the muffins more dessert-like.
Sometimes, you want a small snack while scrolling social media or binge-watching your favorite show late at night. Homemade banana muffins are easy to grab and won't leave you feeling guilty.
Instacart: Save Time And Money On Groceries
Instacart is a grocery delivery service that saves you time and money. It connects you with personal shoppers who pick up and deliver your groceries, allowing you to skip the store trip and compare prices for the best deals.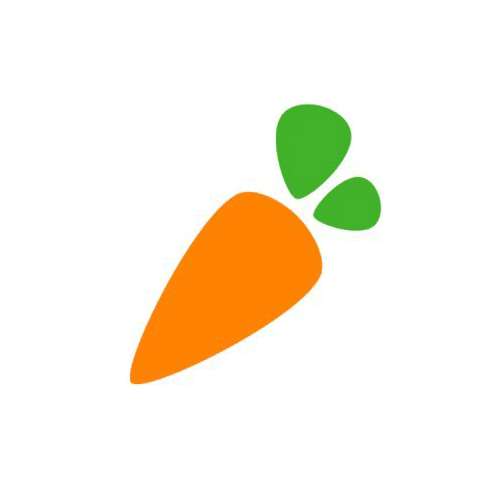 On Hand Ingredients
Because this recipe is so simple, you likely already have all of the ingredients on hand.
Flour, egg, sugar, butter, baking powder and soda, and bananas! Because you're not using a box, you can control what goes into your muffins. You can easily swap almond flour and have a delicious banana muffin if you have gluten sensitivity.
You can also reduce the sugar amount and add extra fresh fruit, such as blueberries, for even healthier muffins that are bursting with flavor.
Getting Started
Besides mashing the bananas, melting the butter, and mixing, there isn't much else to prep for these easy homemade muffins.
Start by preheating the oven to 350 and lining your muffin tins with paper liners.
If you ever notice your muffins stick to your tins, drop in a few grains of rice before you put the paper liners in. The rice helps prevent the paper from sticking to the bottom of the tin.
If you have kids at home who love to help in the kitchen, this is a great way to include them.
Kids are great at lining muffin tins with paper liners. If you don't use liners, use a non-stick cooking spray and swipe each cup with a small amount of butter.
Pulling all ingredients out of the cabinets or pantry is a great way to save a little time when baking. If you have everything out and ready to go, you won't have to dig and hunt for whatever you need.
Mixing things up
You will want to peel and mash 3 to 4 ripe or slightly over-ripe bananas. This is another great way to include your kids in the process. Ripe bananas are simple to peel and toss into a bowl.
Once you have peeled the bananas, using a fork or potato masher, thoroughly mash the bananas and set them aside.
If mixing and sifting dry ingredients is your jam, this is the time to do that. I never do this step. I don't notice enough difference in the end product to take the time to do this.
When it comes to baking, I tend to use my Kitchen-Aid Mixer for all things. But recently, I recently tried using an oversized spoon, and my homemade banana muffins tasted the same. This is another step where you do what makes you happy!
Add mashed bananas, sugar, egg, and melted butter in a medium bowl (or the bowl of your mixer). Mix until combined.
Using a medium spatula, fold the dry ingredients into the wet. If you're using a mixer, I like to give a gentle mix before turning the mixer on to avoid a mess. Over-mixing at this stage can cause heavy muffins.
Spoon your banana muffin mix into muffin tins and bake. 22 minutes is the perfect length to bake for perfectly browned and moist muffins.
Anything longer, and your muffins will be darker brown and dried out; trust me on this.
Add in some fun
The above recipe is for generic and plain homemade banana muffins. I like to make a variety of muffins. I start by making 4 plain muffins following the steps above.
Then I like mixing chocolate chips because chocolate makes everything better. Dark chocolate chips or dairy-free chocolate chips also work well in this recipe if you have a dairy sensitivity.
Once I have made 4-6 chocolate chip banana muffins, I like adding a tablespoon of cocoa powder to the remaining batter to make chocolate chip banana muffins.
You can also make these muffins healthier by adding nuts, chia seeds, or fresh or frozen blueberries.
storing Banana Muffins
If you plan to eat your muffins within 2-3 days of baking, they can be stored in an air-tight container.
If you like to bake in bulk and plan to freeze some muffins, wrap each in wax paper or aluminum foil once they have completely cooled, then store in a freezer bag.
Muffins will keep well in the freezer for up to 2 months. Pull a muffin out when you're ready to eat and let it come to room temperature. You can also heat in the microwave for 15-30 seconds.
If heating in the microwave, wrap your muffin in a damp paper towel to prevent the muffin from drying out.
Easy Homemade Banana Muffins
Quick and Easy Homemade Banana Muffins
Equipment
1 Muffin Tin

Mixing Bowl or Stand Mixer

Measuring Spoons and Cups

Spatcula

Muffin Papers
Ingredients
3-4

Ripe Bananas

¾

Cup

Sugar

⅓

Cup

Melted Salted Butter

1

Large Egg

1 ½

Cups

Flour

1

tsp

Baking Soda

1

tsp

Baking Powder

¼

tsp

Salt
Instructions
Line Muffin Pan with Papers or spray with non stick cooking spray

Peel and Mash bananas in bowl

Mix Butter, Egg, Bananas and Sugar in a medium sized bowl

Add in Flour, baking powder, baking soda and salt.

Gently fold in dry ingredients until combined

Spoon batter into muffin tins filling ⅔ full
Notes
Add your favorite nuts, fresh or frozen blueberries, or chia seeds for added flavor. 
Substitute margarine for butter to make this recipe dairy free. 
Using almond flour will make this recipe gluten free
Next Up From ChaChingQueen
Erin is the mother of identical twin girls and their slightly older brother. She is a domestic engineer, and previously had a career leading customer service teams for a major HVAC company. Cleaning without harsh chemicals, and cooking easy and usually healthy meals are part of Erin's daily life. She volunteers with youth leaders, and genuinely wants to help others win. Erin has a degree in Communications, with a focus on Broadcast Journalism.